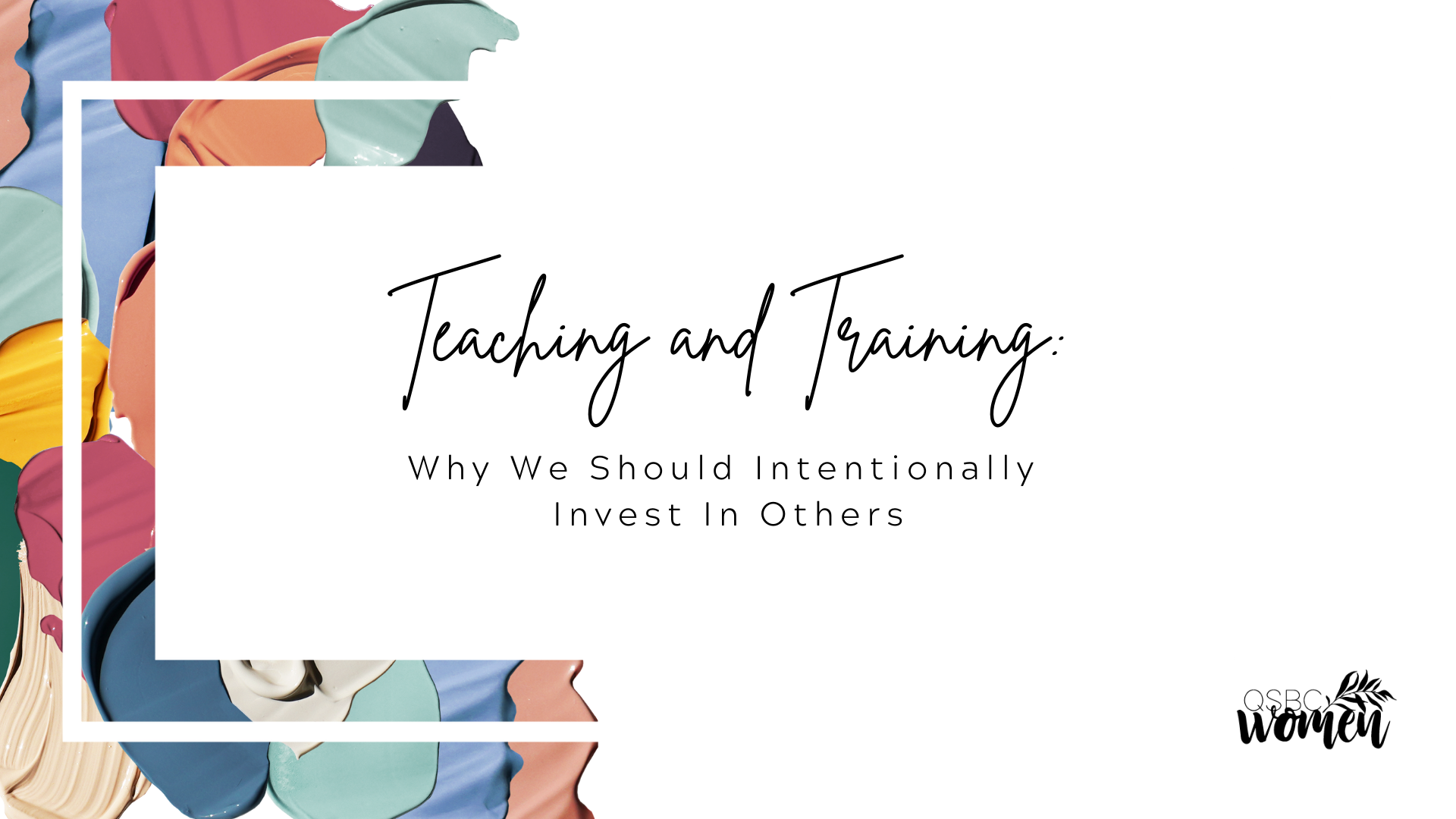 Teaching and Training: Why We Should Intentionally Invest in Others
Written by Samantha Decker for QSBC Women
Intimidated, I slowly stepped over the threshold and walked into my friend's house. I looked around and saw toys scattered about the living room, a full laundry basket in the corner, and remnants of lunch on the table. I don't know what I had expected, but it wasn't this.
My friend was older: a wife, mom, and leader in our church. She always seemed to have it all together. On the other hand, I was a freshman in college, just trying to figure out what life on my own looked like.
However, as we sat at her crumb-filled kitchen table and talked about life and the Lord, intimidation melted away. I was encouraged by her vulnerability and willingness to invest in my life.
There was nothing magical, planned, or significant about afternoon coffee that day, but the impact it left on my life was significant. I tangibly saw the effects of intentionally investing in others.
Investing in others isn't just good, it's Biblical. Paul laid out this command in Titus 2:3-5.
"Older women likewise are to be reverent in behavior, not slanderers or slaves to much wine. They are to teach what is good, and so train the young women to love their husbands and children, to be self-controlled, pure, working at home, kind, and submissive to their own husbands, that the word of God may not be reviled."
Throughout Scripture, we see instructions to pass down the Word of God from one generation to the next (Deuteronomy 6:6-7, Psalm 145:4, 2 Tim 2:1-2, and more). However, as Paul wrote to Titus, he provided greater detail of just how to do this—through teaching and training.
Teaching
In verse 3, Paul writes that older women are to "teach what is good." As the early church was growing and developing, teaching sound doctrine was imperative. Today, we must take the same approach.
In a teaching relationship, there are (at least) two people: 1. The teacher 2. The student. And there are two steps: 1. Knowing (through both study and experience) 2. Passing on
Older women, both in age and spiritual maturity, have a responsibility to step into this role. We must gain Biblical knowledge and understanding, and then find students (aka women willing to sit at our messy dinner tables) to teach.
Training
Additionally, older women are to train younger women.
When someone trains for a marathon, typically they put together a training program, monitor their food intake, exercise regularly, and find a coach or running group to spur them on. Spiritual training is similar.
Training goes beyond the "how-to" and steps into "watch and join me." This involves inviting younger women into your life to see what living as a Godly woman, wife, mother, friend, and/or employee looks like.
As a younger woman sees you practice self-control during your teenager's act of rebellion, she will remember to practice the same self-control during her toddler's temper tantrum. As she sees you love and submit to your husband of 50 years, she will practice submitting to her husband of 5 years. And as she sees the way you love and serve others, her Godly desire to do the same will grow.
So, how do we know if we are the older or younger woman? As believers, the answer is we are both. At every stage of life, we need intentional relationships with both younger and older women for the purpose of sanctification and mutual encouragement (Romans 1:12).
My friend could've easily made excuses for not investing in my life. She was a young mom juggling toddlers and infants, she had responsibilities at our church and in our community, and I'm sure she had a to-do list a mile long. But she didn't make excuses; she invested in a college student and it made an eternal impact.
Who do you need to invest in? Is there an older, Godly woman in your life who you could ask to get lunch with? Is there a younger woman the Lord has placed on your heart who you could invite over? Maybe today's the day to reach out.
---
If you're ready to invest in others and don't know where to start or who to ask, check out the 2021 Intentional Friends - a discipleship ministry of QSBC Women. Enrollment is NOW open. You can complete a Profile Sheet Online or Download the Profile Sheet to complete and return to QSBC office by or before August 1st. You will then be matched with either an "older" or "younger" friend. Get started or find out more here.