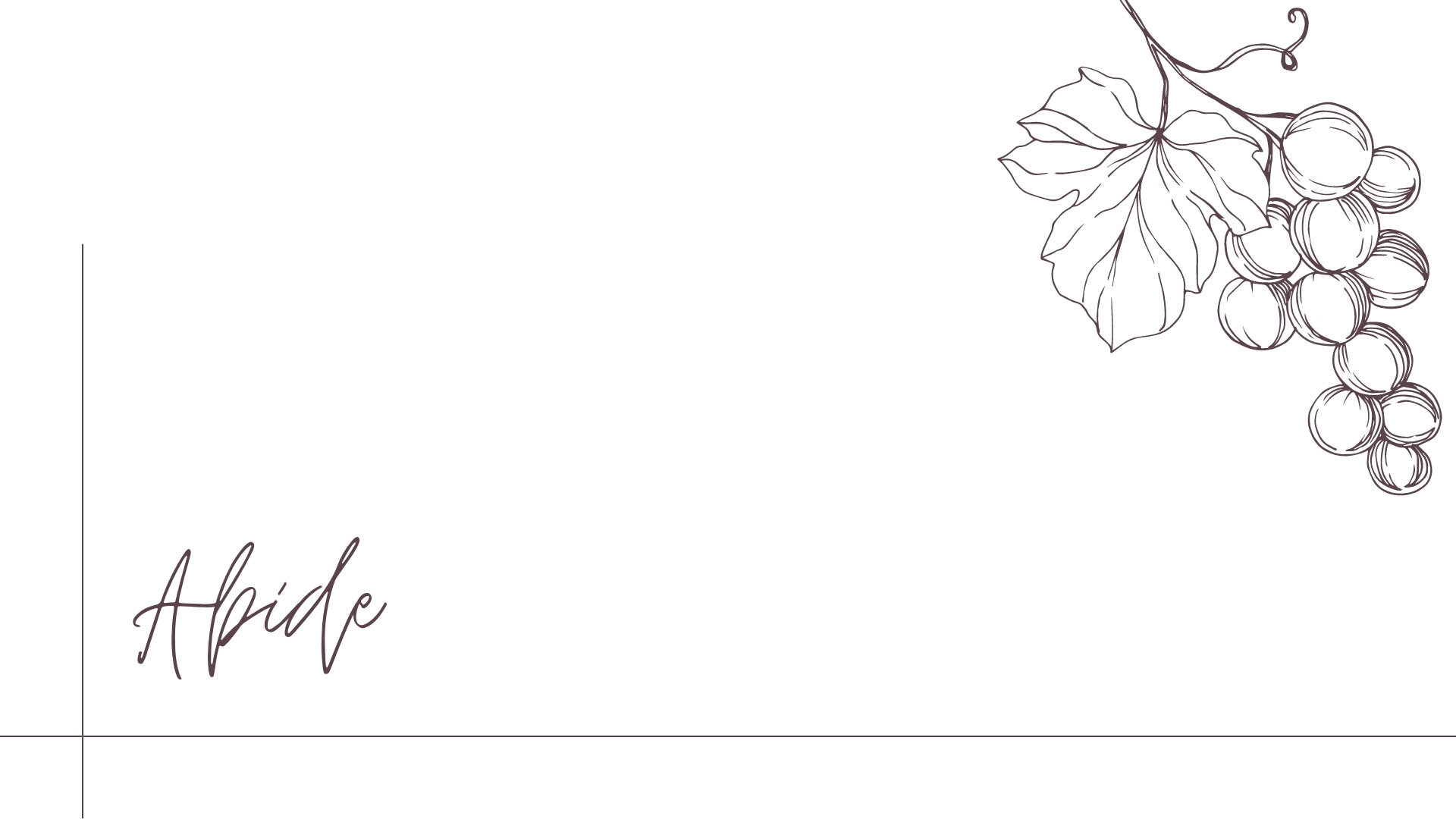 I scrubbed the last dirty dish, hung up another load of unending laundry, and confirmed the kids were (finally) asleep. As the last sun rays of the day beamed through our window, I sat down next to my husband on the couch. Instantly, I started verbally processing the day, going over to-do lists, and hammering off questions regarding upcoming plans. My husband lovingly looked at me and quietly said, "Samantha, just stop and be with me."
Be with me… not with an agenda or a list or a need. Just be.
Throughout the Bible, we see a similar reminder from the Lord to His people in the call to "abide".
This call to abide is a call to remain, to stay, to live, and to be held and kept continually[1]. It's the picture of a mother tenderly holding her infant knowing dinner can wait and sleep will come (eventually), but this short season with a newborn is to be treasured.
In John 15, Jesus uses this language to emphasize the importance of remaining in Him.
"Abide in Me, and I in you. As the branch cannot bear fruit by itself, unless it abides in the vine, neither can you, unless you abide in Me. I am the vine; you are the branches. Whoever abides in Me and I in him, he it is that bears much fruit, for apart from Me you can do nothing." John 15:4-5
In these verses, Jesus reveals a few key components of abiding.
1. Abiding is two-sided
Not only does Christ want us to remain in Him, but He has a desire to remain in us as well. As the Spirit dwells within, we can know God and know His will. This brings joy, power, purpose, and peace.
2. Abiding serves a purpose: we are to bear fruit
The other day my son picked a flower that hadn't fully bloomed yet. He excitedly brought it to me and asked when it would open. Tears filled his eyes as he learned the flower would never bloom because it needed the roots from which it had been severed.
As believers, we should know and understand our call to make disciples and bear the fruit of the Spirit (Galatians 5). However, this is only possible when we remain in Christ. Cutting ourselves from the vine will lead to a fruitless life.
3. Abiding requires us to remove self-righteous efforts and agendas
"Apart from Me you can do nothing." Jesus did not say, "apart from Me you can do some things, or only good things, or things you think are good." He said, "nothing." Even my good intentions, well-meaning pursuits, and impressive-to-the-world accomplishments are meaningless apart from God.
This call to abide is a call to lie prostrate before the Lord, knowing there's nothing I can bring other than my desperate need and willing heart to be with my Savior. It is here where we die to self and learn what it is to live yielded and filled with the Spirit.
My husband's words didn't belittle the work I had done or the conversations that needed to occur at some point. Instead, they were an invitation to shift my priorities. As a covenant relationship, our marriage matters eternally as we work to display Christ's love for His church. To know one another and know the purposes God has for us, we must abide with one another.
We, too, are in a covenant relationship with Christ. Abiding with Christ isn't optional. However, it is good, life-giving, and essential in fulfilling our calling and aligning our desires with the Father's.
When was the last time you stopped and chose to simply be with Lord?
Maybe this doesn't look like waking up earlier than the others just to find a time that is quiet, or maybe it does? Maybe it looks like choosing to sit (without your phone) on the porch while your kids play outside? Maybe it's taking a walk, or playing worship music in the car, or actually taking your lunch break, or simply turning the tv off?
That evening, thanks to my husband's prompting, I chose to sit and be. In the quiet, I realized just how much my heart needed this time with him. It was life-giving, joyful, and restorative.
Time with the Father is the same way on a magnified level. Jesus ends the instruction to abide in John 15 by explicitly stating His purpose: "These things I have spoken to you, that My joy may be in you, and that your joy may be full" (John 15: 11).
Abiding leads to joy: abundant, filling, life-giving joy.
Will you find time to abide today?
[1]
https://www.blueletterbible.org/lang/lexicon/lexicon.cfm?t=kjv&strongs=g3306