CrossTimbers – June 9-12, 2023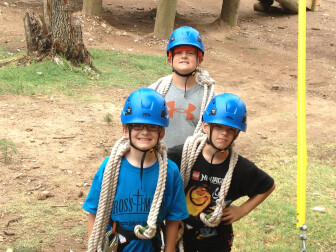 REGISTRATION FOR 2023 WILL OPEN ON MONDAY, JANUARY 30
CrossTimbers is a Children's Mission Adventure Camp for children who have completed 3rd-5th grade. At CrossTimbers kids will have a wonderful time learning about and experiencing missions hands-on. They will experience new challenges through fun camp activities as they learn Biblical principles for worship, missions, evangelism and life.
Below are some of the most frequently asked questions. Take a look to find out more!
Frequently Asked Questions
WHO CAN GO?
Any child who has completed 3rd-5th grade.
WHAT DOES IT COST?
The cost is $160, and the deposit to hold your child's spot is $60.
HOW DO I REGISTER MY CHILD?
WHERE IS CROSSTIMBERS?
Crosstimbers is located near Davis, OK.

HOW DO I KNOW IF MY CHILD IS READY FOR CAMP?
As a parent, it's important for you to know if your child is ready to go away from home to camp for 4 days and 3 nights. Can they: Wash their own hair? Make their bed? Can they carry their own luggage? Can they keep their bunk area clean? Keep up with their stuff? Now is the time to start practicing!
CAN I DOWNLOAD THE REQUIRED FORMS HERE?
Yes! Simply click the links below to access both the required forms.
(Forms will be available to download soon)
If you are interested in going as a camp sponsor you MUST contact Mr. Mark at . beginning Monday, January 30th (NO SOONER PLEASE). Mr. Mark will send you a sponsor link that MUST be completed in order to hold your spot as a sponsor. The first 12 women and the first 12 men will be able to go at no cost, all others after that will need to pay and only if parent spots are available.